Looking at the big picture
Let's face it. One day, we will all DIE. We will be lying on that cold slab. Breathless, lifeless. Finally silent. We won't be buried with the things we loved or worked so hard to possess. The most we will be buried with, if we are lucky is a fancy coffin, a designer suit or dress. And it's a wrap. DEAD, GONE, and life will go on like we were never around.
The only thing that will be left once we die is our legacy – the impact of our actions and decisions. Suppose you die today, what will be your greatest achievement? You write your legacy EVERYDAY by the things you DO and the things you DON'T DO. Your life is a GIFT, and what you do with it is your GIFT TO THE WORLD.
God created you for a purpose
The greatest tragedy in life is not death. Its life without a purpose. Imagine living for years on earth and dying without knowing why you existed. The two greatest days of your life is the day you were born, and the day you find out why you were born. God didn't create you by accident or for entertainment, He created you for a purpose. God needed you to accomplish something unique on earth that ultimately made your existence necessary.
In Genesis 1:28 God commanded man to be fruitful (productive) and multiply (grow). God expects us to live effectively on earth. He expects us to be resourceful, valuable, useful and to increase in all aspects of our lives.
About LEMP
It's against this backdrop that the Living Effectively Mentorship Program (LEMP) was formed stemming from the founder's passion of providing mentoring opportunities to individuals committed to personal and professional development. The vision of LEMP is to equip individuals to discover their purpose and maximize their God-given potential to live effectively on earth as they also become agents of change.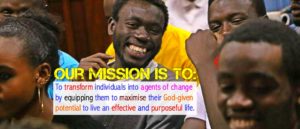 LEMP is a global mentorship program established in 2015 and registered under the Societies Act, Chapter 180 of the Laws of Kenya. Our mission is to transform individuals into agents of change by equipping them to maximize their God-given potential to live an effective and purposeful life. Since its inception, the program has directly impacted of over 10,000 people, including conducting structured mentorship sessions, giving talks in universities, churches, groups and corporate organizations across the country.
At LEMP, we believe that an investment in knowledge pays the best interest. We, therefore hope we will help you not to go through life aimlessly without a clue on why you are here, and end up dying having truly never lived.
LEMP offers tailored mentorship courses for individuals, schools, institutions, universities, churches, corporate organisations, NGOs, and groups. It is governed by the LEMP Management team who oversee the daily as well as strategic affairs of the program. The program is opened to anyone who desires to be mentored irrespective of their age, gender, religion, education or social status.