My story of how LEMP changed my life
This is the true story of my life…… My Name is Okwakau Melkizedeck.
Four years ago after my Form Four, I thought that nothing is possible for me after KCSE results were out. I had a good grade, but not good enough to secure me a direct entry into the university. Our family is one of those that were deeply affected by the 2007-2008 post-election violence, and therefore getting to go to the university as a self-sponsored student was unthinkable. That time I never knew anyone who could just advice or encourage me about life and what really matters most in life.
The first thing that always came into my mind was "mujengo" (casual construction work), which I did and earned a daily income of Kshs 300. It was not easy but I was trying to get something for myself.
After struggling for some months as a "Mtu wa Mkono", I opted for working in a barber shop, then later on in a  Car Wash. By this time, my younger brother was in university and also trying to make his ends meet. Sometimes I used to think how my life will be when my brother will be driving. It made me decide to follow my brother to Nairobi so that at least we can learn the way of life together, eat together when we had and go hungry together when we lacked – all our lives we have been living side by side from early ages to date. The one thing God gave us is a strong Family bond, full of love.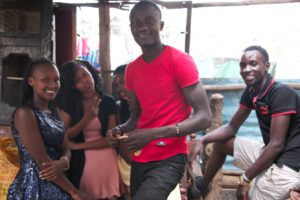 In Nairobi things were never much better, but at least when my brother left his books behind I used study them a little and gain some knowledge. That used to help me a lot. My brother sometimes used come with his different friends and at times we used to go together with him to his university. I made lots of friends and was exposed due to the interactions. That is when I  realized that when you stay with people with knowledge after some time you'll be like them; that is if you decide to be like them. Those friends made me learn a lot. With my brother, we always believed in a better future and therefore, staying motivated and being positive were our order of life.
After some few months my brother introduced LEMP (Living Effectively Mentorship Program) into my life. At first I was not willing to join because I was always concerned about getting into university, without knowing I was ignoring a very important part of my life; and that my life needed something much more important – Mentorship. Of course he always insisted. At the time LEMP was running Season 5 and I only attended one class then disappeared.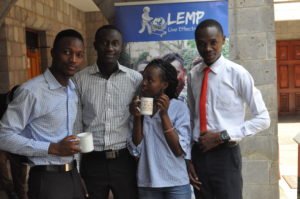 Days passed by then my cousin gave me Kshs 9000 to join KCA University to study Accountancy. My fee for the semester was Kshs 28000. I deferred because I had no one or anywhere to get and pay my balance. After five months I went back to the university and a month later I had nothing to pay for my fees then my in-law paid my fees, including for my KASNEB exams. I wanted to defer for the second time but my Brother-in-law paid the fees for me. I finished that semester and as usual the following semester was no much different, I had know one to pay my fees. I stayed In the house without any hope of going back to the university for a whole year without doing anything, I was really depressed.
One day on Whats app I saw my brother advertising for LEMP Season 9. I decided just to go for a session because I was idle in the house and thought to myself that after all I had nothing to loose; that was when my life changed completely.
I thank Douglas Waudo, our mentor who made me abide by to biblical teachings. Right from the first day, first class I felt that I needed more. I believe that this was God's timing in my life. After four classes I realized that the biggest problem I had was with my self-esteem, and that was what almost made me fail in life. Courage came from nowhere. Even before the 6th class I got a modeling job because of that courage from LEMP.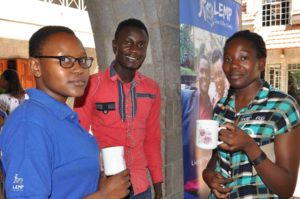 In LEMP I realize my purpose and passion. I graduated from LEMP, and I am now living effectively without struggling with life like life before LEMP. Two weeks after graduating from LEMP, I got another job that pays well. Now I can pay my fees and save for my future.
From LEMP I learnt that you "DON'T  WAIT FOR A CRISIS FOR YOU TO START SOMETHING, THE TIME TO START IS NOW". From then I always trust God to direct me in everything I do. I have learned not to wait for change to happen, but to make things happen. I appeal to all to join LEMP, where you will discover your purpose
in life and get answers to life's most challenging questions.
Okwakau Melkizedeck, LEMP Season 9 Alumni.